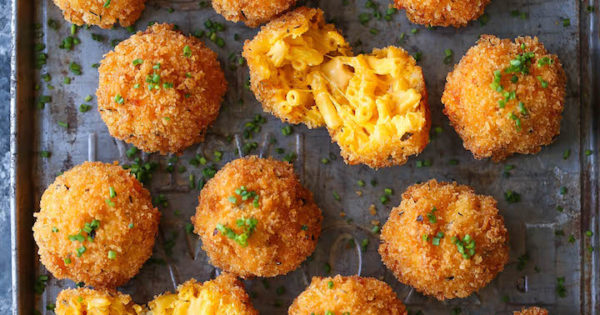 Prepare the mac & cheese per the instructions on the box. Once complete, you can go ahead and mix a Tablespoon of Dead Red in now, along with the Garlic powder and smoked paprika.

Cool the mac & cheese mixture until it is cold enough to form into spoon sized balls (about 2 or 3 hours in the fridge).
Once cool, form the mac and cheese mixture into spoon sized balls.
Pre-heat the oven to 400 F

Using 3 small plates, put the remaining Dead Red sauce on one, egg on the next one, and your bread crumbs on the final one.
Roll each mac and cheese ball in Dead Red, then the egg wash, then your bread crumbs.
Place them on your baking sheet roughly 2" apart, put them in the preheated oven and bake for roughly 13 minutes, to a nice golden brown crust.

Allow your baked bites to cool before serving. To re-heat them at an away game, microwaving them in 20 second increments works pretty well.